Carmi Sheli: Studies on Aggadah and its Interpretation Presented to Professor Carmi Horowitz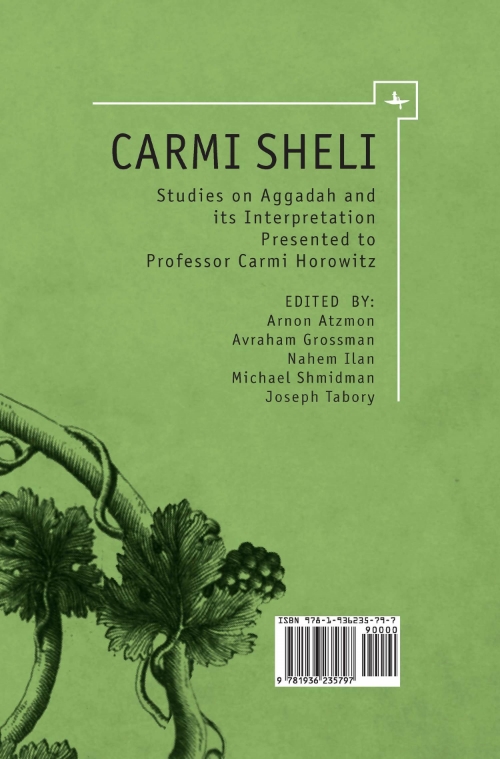 Carmi Sheli: Studies on Aggadah and its Interpretation Presented to Professor Carmi Horowitz
Edited by A. Atzmon, A. Grossman, N. Ilan, M. Shmidman & Y. Tabory
Series: Touro University Press
ISBN: 9781936235797 (hardcover)
Pages: 258 pp.
Publication Date: December 2011
This volume contains fifteen articles, many in Hebrew, by leading scholars. The articles cover a broad range of subjects, from an analysis of biblical narratives as expounded in the midrash and by medieval commentators, through a discussion of Maimonides' attitude towards midrash and an analysis of talmudic aggadah as expounded by oriental scholars, to polemics concerning the attitude to aggadah in the thirteenth and sixteenth centuries, and culminating with an analysis of interpretation of aggadah by latter-day talmudic scholars. There are also articles about the essence of aggadah, its literary conventions and its relation to law, and two articles which deal with a passage in the Passover Haggadah. The participants include: E. Eizenman, N. Ilan, G. Blidstein, Y. Blau, M. Bregman, A. Grossman, H. Davidson, C. Horowitz, O. Viskind-Elper, H. Mak, A. Atzmon, A. Kadari, A. Rozenak, M. Shmidman, and J. Tabory.
Avraham Grossman (PhD Hebrew University) is professor emeritus of Jewish History at Hebrew University. His publications include Pious and Rebellious: Jewish Women in Medieval Europe (2004) and Exile and Diaspora (2000).
Nahem Ilan (PhD Hebrew University) is a professor at the Lander Graduate School of Jewish Studies. His publications include The "Metzah Aharon" Commentary on the Pentateuch by Rabbi Aharon Garish and The Register ("Pinkas") of the Jewish Community of the Sudan.
Michael Shmidman (PhD Harvard University) is dean and Victor J. Selmanowitz Professor of Jewish History at Touro Graduate School of Jewish Studies. He has served as editor of TRADITION: A Journal of Orthodox Jewish Thought and is the co-author of Law and Philosophy: Perspectives on Maimonides' Teaching (1995).
Yoseph Tabory (PhD Bar-Ilan University) is a professor of Talmud at Bar-Ilan University in Israel. He is also an ordained Orthodox rabbi. He has written many articles and is the author of two major volumes in Hebrew, one on the history of Jewish festivals, The Passover Haggadah, upon which the JPS Commentary on the Haggadah is based, and one on the history of the Passover seder.