The Twilight of Reason: Benjamin, Adorno, Horkheimer and Levinas Tested by the Catastrophe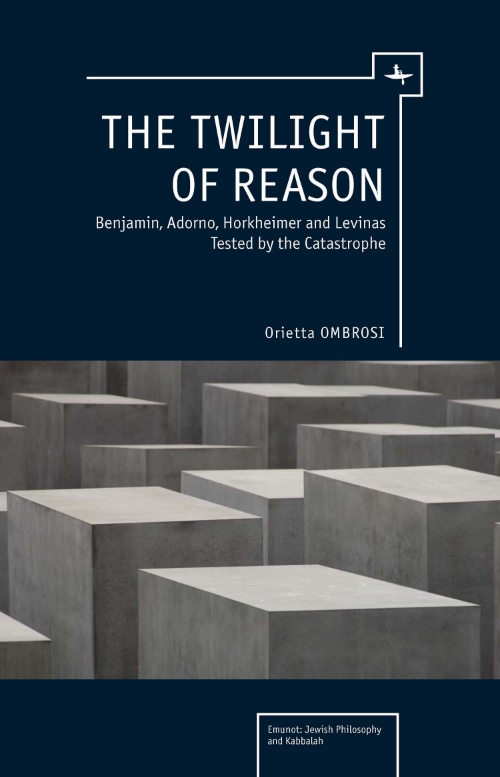 The Twilight of Reason: Benjamin, Adorno, Horkheimer and Levinas Tested by the Catastrophe
"Think of the disaster" is the first injunction of thought when faced with the disaster that struck European Jews during the Shoah. Thinking of the disaster means understanding why the Shoah was able to occur in civilized Europe, moulded by humane reason and the values of progress and enlightenment. It means thinking of a possibility for philosophy's future.

Walter Benjamin, who wrestled with these problems ahead of time, Theodor Adorno, Max Horkheimer, and Emmanuel Levinas had the courage, the strength and the perception—and sometimes simply the desperation—to think about what had happened. Moved by indignation and the desire to testify, they felt the urgent need to address the cries of agony of Auschwitz's victims in their thinking.
Orietta Ombrosi (PhD University of Paris X-Nanterre) is assistant professor of moral philosophy at the Sapienza, University of Rome. She is the author of Le crepuscule de la raison. Benjamin, Adorno, Horkheimer et Levinas a l'epreuve de la Catastrophe, (Hermann, 2007) and L'umano ritrovato. Saggio su Emmanuel Levinas (Marietti, 2010), and the editor of Tra Torah e Sophia. Orizzonti e frontiere della filosofia ebraica (Marietti, 2011).
Table of Contents
Preface by Catherine Chalier
Foreword
Prelude

THE NOSTALGIA OF ODYSSEUS
Regression: subjugated in order to subjugate
The circle of the Same
Why Odysseus?
Chapter I: FACING BEHEMOTH
I. The Jews, a problem in Horkheimer's analysis of anti-Semitism
II. Anti-Semitism: a product of civilization, according to Horkheimer and Adorno
III. Hitlerism: paganism according to Levinas
Chapter II: ON THE THRESHOLD: WALTER BENJAMIN
I. From the before to the after: catastrophes
1. Catastrophe and technological progress
2. Catastrophe and the historical continuum
3. Catastrophe and redemption
II. From the after to the before: fl ashes of remembrance
1. Dialectic of remembrance
2. Dialectic of memory and forgetting
Interlude
A PHILOSOPHY OF TESTIMONY
Silences of the witnesses
Words of the saved
The here and the now of testimony
Chapter III: THOUGHTS OF EXILE: THEODOR W. ADORNO AND MAX HORKHEIMER
I. Adorno: a "sad knowledge"
1. Philosophical thought after Auschwitz: a truth of feeling
2. Ethics of physical suffering
3. Theoretical thought in the face of pain and death
4. A death worse than death
5. Education after Auschwitz, or against coldness
II. Horkheimer: between lucid despair and mute hope
1. Reason and its shadow: self-destruction
2. Reason and nomination
3. A Jewish intellectual after Auschwitz
Chapter IV: "THE PRESENTIMENT AND THE MEMORY OF THE NAZI HORROR": EMMANUEL LEVINAS
I. Philosophizing after Auschwitz: three lessons
II. A subjectivity of fl esh and blood
1. Subjectivity as sensibility
2. Subjectivity as vulnerability
3. Subjectivity as persecution
III. A humanism of the "suffering servant"
1. Auschwitz as a paradigm of useless suffering
2. Ethical resistance afterwards

Conclusion
Indicative Bibliography