The Horizontal Society: Understanding the Covenant and Alphabetic Judaism (Vols. 1 & 2)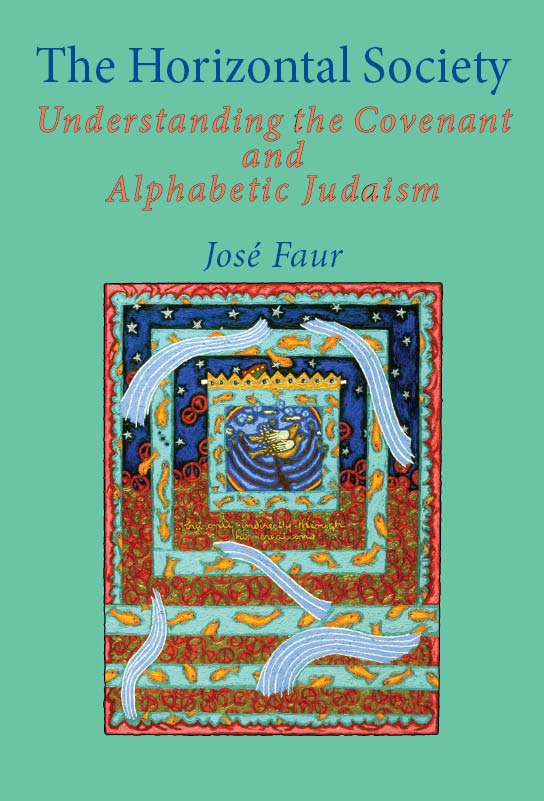 The Horizontal Society: Understanding the Covenant and Alphabetic Judaism (Vols. 1 & 2)
Jose Faur
Series: Emunot: Jewish Philosophy and Kabbalah
ISBN: 9781934843130 (Vol. 1, hardcover), 9781934843185 (Vol. 2, hardcover), 9781936235049 (Vols. 1 & 2, paperback)
Pages: 456 pp. (Vol. 1), 244 pp. (Vol. 2)
Publication Date: June 2008
The Horizontal Society is a comprehensive exposition of rabbinic thought as exemplified in the Geonic and Andalusian traditions, with special emphasis on Maimonides. Other intellectual traditions, including those of Judeo-Arabic and Judeo-Spanish sages, are also properly noted and carefully integrated in the discussion. In the course of these studies, parallel Western concepts, old and new, are discussed with insight and understanding. As a result, biblical and rabbinic texts do not appear as something dead, buried and done, but, rather, they help provide a pivot point of argument with mainstream views concerning Judaism and Western values and tradition. This work is written in the Hebrew rhetorical tradition of melisa, whose principal aim is to open a dialogue, rather than bring the subject to a close. It contains five sections—The God of Israel, The Books of Israel, The Governance of Israel, The Memory of Israel, and The Folly of Israel. It includes copious references, both from rabbinic and modern sources, to help orient the reader. The mode is similar to the author's previous work, Golden Doves with Silver Dots: Semiotics and Textuality in Rabbinic Tradition, interacting classical texts and ideas with contemporary thought.
The Horizontal Society proposes that only Jews were organized along horizontal lines, because of two overwhelming principles. First, the Hebrew Scripture alone proposes that every person is created in the image of God, thus establishing the absolute equality among every human being. Second, the Sinai covenant establishes the Law as the supreme authority. Whereas in other societies, might is the source of authority, in Judaism authority is limited by a supreme Law standing above the political, ecclesiastical, and civil authorities. There is a subdivided bibliography of forty pages, including both "Rabbinic" and "Western" sources. The scholarly apparatus includes indices of terms, names, and subjects. There are also seventy appendices of interest to rabbinic readership.
José Faur (PhD 1964, University of Barcelona) is Professor Emeritus, Law School, Netanya Academic College, Netanya, Israel. He was the first Jewish recipient of a doctorate from the University of Barcelona since the Expulsion in 1492. He has taught at JTS and Bar-Ilan University and published in Hebrew, Spanish, French, Italian and English. His books include: Golden Doves with Silver Dots: Semiotics and Textuality in Rabbinic Tradition (Indiana UP, 1986); In the Shadow of History: Iberian Jews and Conversos at the Dawn of Modernity (SUNY, 1992); Homo Mysticus: A Guide To Maimonides's Guide for the Perplexed (Syracuse UP, 1998).
Table of Contents
Preface
Acknowledgements
Hebrew Transliteration Table
Abbreviations
Prologue
Section 1: The God of Israel
Introductory Remarks
1. The Book of Creation
2. Monolingualism and the Analphabetic Mind
3. God as a Writer|
4. Of Scribes and Analphabetic Poets
Concluding Reflections
Section 2: The Books of Israel
Introductory Remarks
5. The Berit ('Covenant') Sinai-Moab
6. Scripture and the Mental Law of Israel
7. The Publication of Scripture
8. Epistles and Memoranda
9. Interpreting the Books of Israel
10. Law and the Judiciary
11. The Boundaries Derasha
Concluding Reflections
Section 3: The Governance of Israel
Introductory Remarks
12. Of Herut
13. Hierarchic Humanity
14. Horizontal Man
15. The Household of Israel
16. Humanity before Statehood
17. God's Territory
18. The Three Crowns of Israel
19. Hebrew Theocracy: Sovereignty under the Law
20. The Crown of a Good Name
21. Galut: Right without Might
22. Jewish Dominion over the Land of Israel
23. Pagan Political Thought
24. A Perfect Tora
25. The Five Doctrines Taught by Patriarch Abraham
26. The Two-Realm Governance
27. Silencing Scripture
28. The Road to Serfdom: Freedom without Law
29. Paul's Theo-politics
30. Escape From Guilt
31. Imperial Religion
32. The Political Dimension of Anti-Semitism
33. Two Concepts of Human Rights
34. Pax Romana and Pax Hebraica
35. The Sabbath is the Lord's
36. Separating Church from State
Concluding Reflections
Section 4: The Memory of Israel
Introductory Remarks
37. National Memory
38. The Matrix of Jewish Memory
39. Walking Under the Fox's Shadow
40. The Emergence of the Sword / Cross Axis
41. A Crisis of Memory
42. Unmasking Spurious Versus Israel
43. The Publication of the Mishna
44. Minting Tradition into Oral Law
45. National and Vernacular Memory
46. Melisa and the Realm of the Verisimilar
47. Expanding National Memory
48. Kalla and the Formation of the Babylonian Talmud
Concluding Reflections
Section 5: The Folly of Israel
Introductory Remarks
49. Qabbala and the Conveyence of Talmudic Tradition
50. "Little Foxes" - Rabbis without Qabbala
51. The Day of the Willow
52. The Genesis of Jewish Heroic Virtue
53. Heroic Knowledge
54. Payback Time - The Case of Catalonian Rabbis
55. "Our Lords, the Rabbis of France"
56. Fighting Assimilation?
57. Kabbalah vs. Qabbala
58. Cult of the Occult
59. The Anti-Scientific Obstinancy of Maimonideans
60. The Five Pillars of Anti-Maimonidean Kabbalah
61 The Problem with 'Philosophy'
62. A Reflective Response to R. Hayye Gaon's Call
63. The Mishne Tora
64. Hierarchic Truth
65. Inerrant Saint
66. Israel's Fourth Miracle
Concluding Reflections
Epilogue