Before They Were Titans: Essays on the Early Works of Dostoevsky and Tolstoy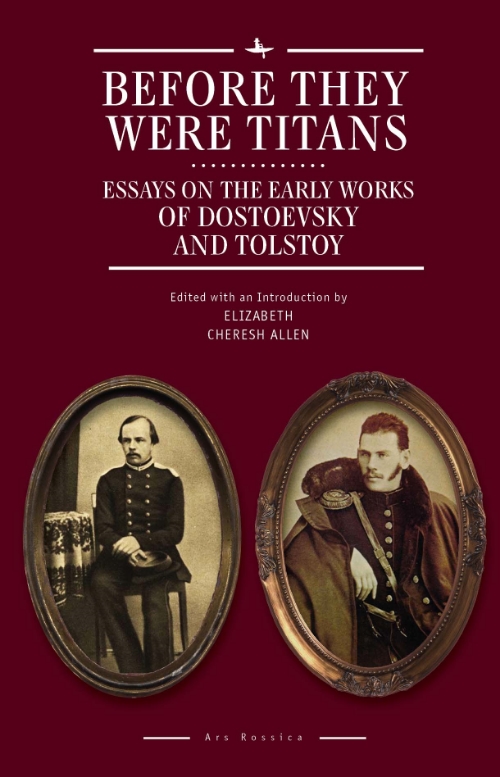 Before They Were Titans: Essays on the Early Works of Dostoevsky and Tolstoy
Edited with an introduction by Elizabeth Cheresh Allen
with an afterword by Caryl Emerson
Series: Ars Rossica
ISBN: 9781618114303 (hardcover), 9781618118110 (paperback)
Pages: 352 pp.
Publication Date: April 2015
Dostoevsky and Tolstoy are the titans of Russian literature. As mature artists, they led very different lives and wrote vastly different works, but their early lives and writings display provocative kinships, while also indicating the divergent paths the two authors would take en route to literary greatness.
The ten new critical essays here, written by leading specialists in nineteenth-century Russian literature, give fresh, sophisticated readings to works from the first decade of the literary life of each Russian author—for Dostoevsky, the 1840s; for Tolstoy, the 1850s. Collectively, these essays yield composite portraits of these two artists as young men finding their literary way. At the same time, they show how the early works merit appreciation for themselves, before their authors were Titans.
Contributors:
Elizabeth Cheresh Allen (Bryn Mawr College), Lewis Bagby (University of Wyoming), Caryl Emerson (Princeton University), Susanne Fusso (Wesleyan University), Liza Knapp (Columbia University), Anne Lounsbery (New York University), Robin Feuer Miller (Brandeis University), Gary Saul Morson (Northwestern University), Dale E. Peterson (Amherst College), William Mills Todd III (Harvard University), Ilya Vinitsky (University of Pennsylvania), Justin Weir (Harvard University)
Elizabeth Cheresh Allen received her PhD in Slavic Languages and Literatures from Yale University in 1984, where she taught for seven years. Since 1991, Allen has taught at Bryn Mawr College as Professor of Russian and Comparative Literature. She is the author of Beyond Realism: Turgenev's Poetics of Secular Salvation (Stanford UP, 1992) and A Fallen Idol is Still a God: Lermontov and the Quandaries of Cultural Transition (Stanford UP, 2007). She is also the editor of The Essential Turgenev (Northwestern UP, 1994) and co-editor of Freedom and Responsibility in Russian Literature: Essays in Honor of Robert Louis Jackson (Northwestern UP, 1995).
Table of Contents
Acknowledgements
Note on the Text
List of Contributors

Introduction: Before They Were Titans
Elizabeth Cheresh Allen
Part I.
Dostoevsky: Works of the 1840s
I. Agency, Desire, and Fate in Poor Folk
Lewis Bagby
II. Me and My Double: Selfhood, Consciousness, and Empathy in The Double
Gary Saul Morson
III. Husbands and Lovers: Vaudeville Conventions in "Another Man's Wife," "The Jealous Husband," and The Eternal Husband
Susanne Fusso
IV. Dostoevsky's White Nights: Memoir of a Petersburg Pathology
Dale E. Peterson
V. Dostoevsky's Orphan Text: Netochka Nezvanova
Elizabeth Cheresh Allen
Part II.
Tolstoy: Works of the 1850s
VI. The Creative Impulse in Childhood: The Dangerous Beauty of Games, Lies, Betrayal, and Art
Robin Feuer Miller
VII. Fear and Loathing in the Caucasus: Tolstoy's "The Raid" and Russian Journalism
William Mills Todd III and Justin Weir
VIII. Tolstoy's Sevastopol Tales: Pathos, Sermon, Protest, and Stowe
Liza Knapp
IX. On Cultivating One's Own Garden with Other People's Labor: Serfdom in "A Landowner's Morning"
Anne Lounsbery
X. Tolstoy's Lessons: Pedagogy as Salvation
Ilya Vinitsky
An Afterword on the Wondrous Thickness of First Things
Caryl Emerson

Index